When I talk about sky transitions with acrylic paints, I'm talking about moving from one color to another to make either a life-like or dramatic sky effect.
Rarely in nature do we see a flat, single color sky. A beginner mistake is to pick a blue color and paint the entire sky with that one blue color. If you look carefully at the sky or reference photos you'll see that the color usually gradiates from top to bottom and left to right depending on the time of year and the time of day. There are so many colors that can go into a sky painting – grays, shades of blue, oranges, and yellows. Also, clouds come into the picture and can make the skies even more dramatic. Painting a dynamic sky can breathe life into your watercolor, acrylic, or oil painting.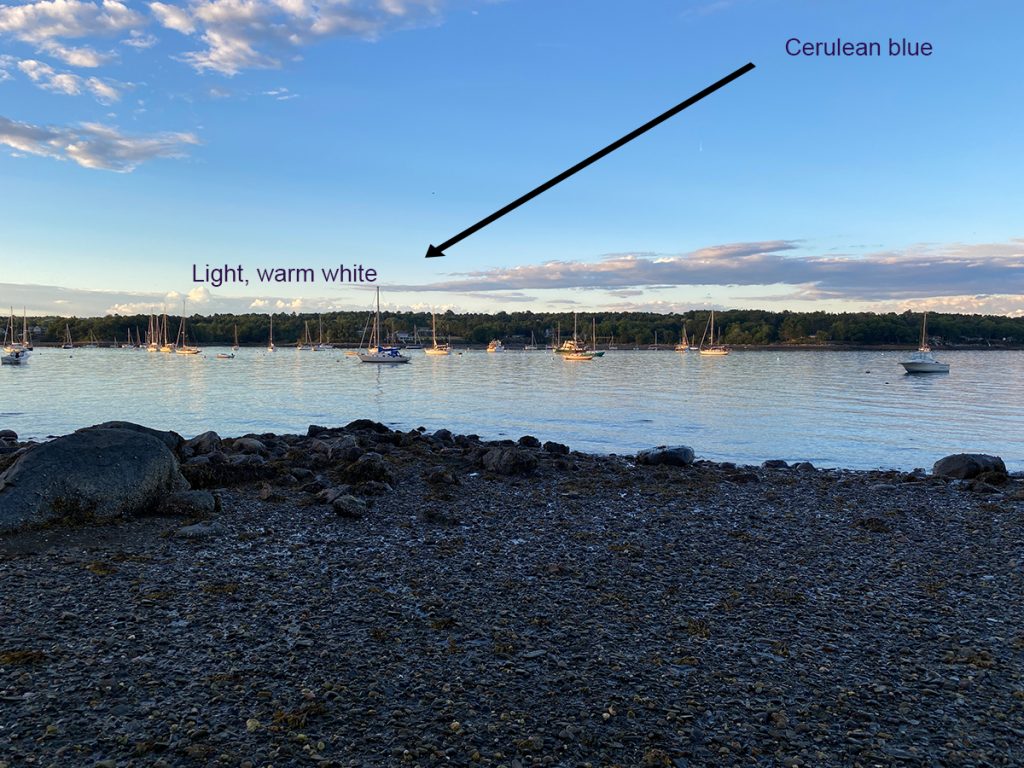 We're going to look at different skies, talk about what makes them unique, and translate that look and feeling onto paper or canvas. I'm not going to be as concerned with the clouds that make up the sky but rather with the change in color from one area to the next.
Whether you're using watercolor, acrylic, or oil, the same thought has to be given as to how to transition from one color to the other.
Keep it clean
Keep two containers of water around to rinse off your brushes. Before attempting to blend the sky colors, make sure you first rinse in your dirtier water, then in the fresh water. Wipe on a cloth and make sure there aren't any leftover bits of color in the brush before blending.
Also, make sure you don't accidentally pick up any stray colors from your palette. The tiniest bit of blue paint on your orange sunset will turn it green!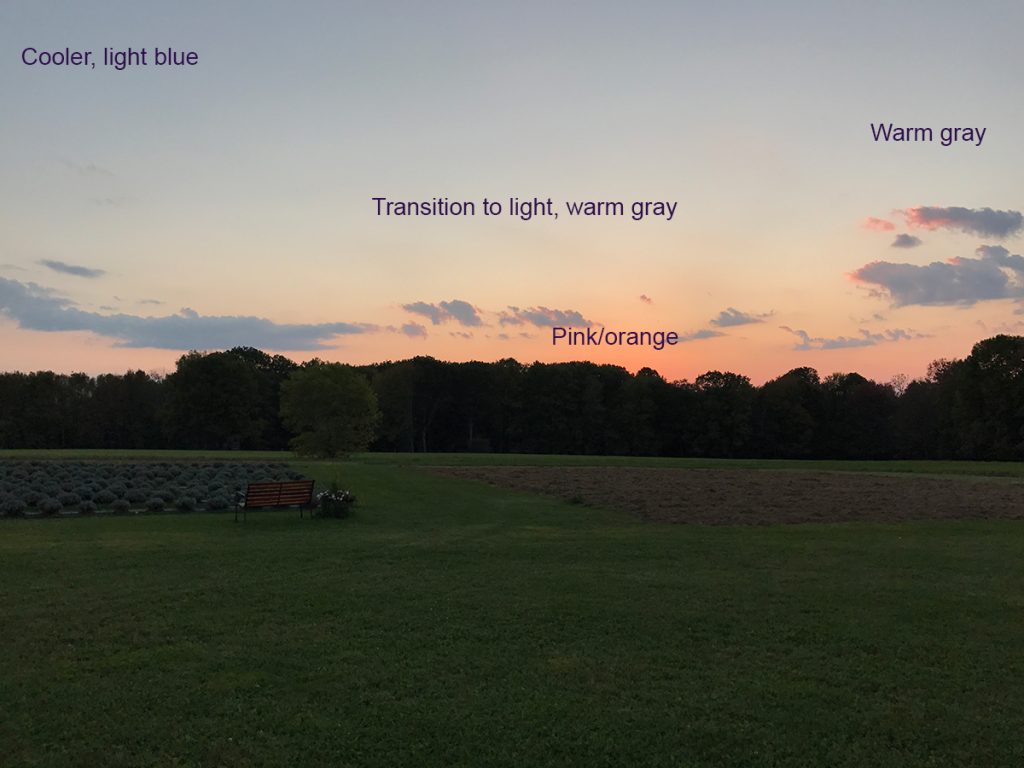 Use a large brush
A small brush has it's place but unless you're working on clouds, reach for your large, flat brush. There's nothing like a larger brush to lay the paint on quickly and smoothly, avoiding brush strokes.
Thin your paint
Some artists use texture when painting skies and blending sky colors but if that's not your intent thin your paint a little. You can use a bit of water or even better use an acrylic flow aid like this one for acrylic paints.
Transition to light or gray
Avoid the unwanted mixing to green when painting a sunrise or sunset by using a transition color of light gray or warm white. Changing abruptly from blue to orange or yellow will probably give you unwanted results. Instead, brush out the blue to almost no color, then work the sunset color up to the light gray or white.
A note on watercolor: Let the base layer dry before applying the other color. This way you have less chance of the two colors bleeding together.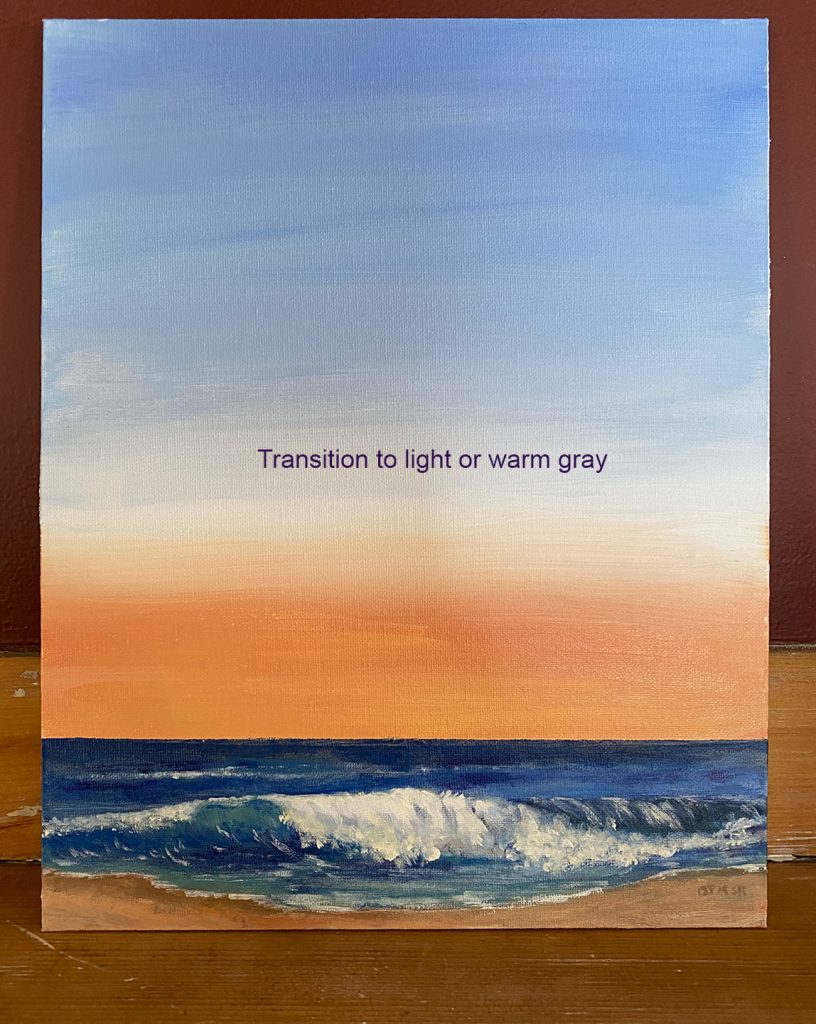 Where I live in Maine, we have long summer days where the sun is high in the sky and takes a long arc across the sky. In the winter, the sun is much lower, the days are shorter and there are some wide varieties of color ranging from deep blue to bright pinks and oranges. The more I paint skies, the more I look at them in real life and imagine what paint mixes I'd use to replicate it.
What are your techniques for painting skies with their color transitions? Drop me a line!